So I was reading last night and suddenly it occurred to me that in less than two weeks I will be starting IVF #2. And then I started crying. I guess all this time I've been refusing to think about it and have been putting this whole IVF #2 at the far corner of my mind. And then last night it hit me. To make things worse, DH was not at home. He was out playing badminton with his buddies. So there I was, alone on my bed crying my eyeballs out. For some reason I kept thinking about the nights after my miscarriage when I asked DH to stay the nights with me and he did. No questions asked eventhough we had to share a single bed. He was with me, holding me the entire time.
I'm scared. There I said it. I'm scared that this cycle will fail. I'm scared that this cycle will work and then I will lose the baby (again). I was so glad when DH came home. When he saw that I've been crying he immediately pulled me to him and that made me cry more. I asked him if he ever thinks about this new cycle and he admitted he does. He said he's as scared as I am and I love him for admitting that. He asked me if I want to postpone doing this but I told him I want to do this now. But I love him for asking.
I don't know what's gonna happen, it's all in His hands. But I know I must have faith that things will work out for us. Sometimes I wonder how is it possible for someone to be lucky and unlucky at the same time. I'm so lucky to have found DH and yet I'm also the unluckiest person in the world for not being able to have a baby.
Anyway, enough moping. This is what I read last night. I bought this book yesterday and started reading at 6 p.m. and finished it by 10 p.m. The story may not be very original but I just couldn't stop reading. I can't tell you about the book without revealing spoilers. It's a story of friendship, teenage love and a mother's love and loss all rolled into one. There were moments in the book where I cried. There was a line in this book that stays with me.
"Maybe you need to be broken a little before you can put yourself back together."
It was like the author was looking at me when she wrote this line. Have a go at this one. I've loved Kristin Hannah since I read Firefly Lane (excellent, excellent book) and this one doesn't disappoint.
Note to self: Must find more books to keep me company during my "house arrest".
Oh and Tyler Hilton's new album "Forget The Storm" came out. If you are a fan of One Tree Hill (I'm quite embarrassed to admit, but I am) you would know him from Season 2 and Season 9. I love his raspy, soulful voice and I love the lyrics to his songs. My favourite track would have to be "Prince of Nothing Charming."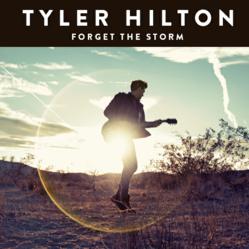 One of my current favourite Tyler Hilton songs which I have on repeat on my iPod is "Keep On" from his Ladies & Gentleman EP".
The chorus goes like this:
When you lose what you love, live on live on
When the road gets too rough, be strong be strong
What you can't understand, but you're starting to see
It'll work in the end, you just got to believe
So now whenever I'm down I will listen to this song and tell myself to keep on, keep on. And it'll work in the end.
Much love,
xoxo